Welcome!
This website presents information on the accessibility of public facilities in North Rhine-Westphalia, in particular town halls, civic centers, venues and cultural institutions.
The data on the facilities are collected by qualified survey teams according to a uniform methodology. The criteria were agreed with the disability and social organizations in North Rhine-Westphalia and are based on the applicable national standards (in particular DIN 18040-1). The Agentur Barrierefrei NRW is responsible for the portal and the organization of the surveys.
In the search field you can enter a building or facility name as well as address information such as street, house number, city and postal code. The buildings are displayed according to parts of buildings and support.
You can customize the information to be displayed by selecting one or more user groups: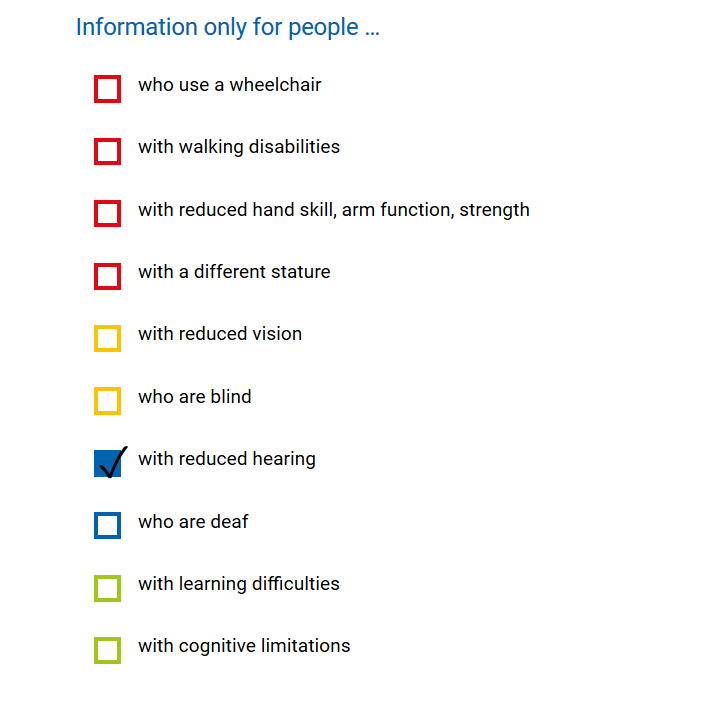 who use a wheelchair.
with walking disabilities.
with reduced hand skill, arm function, strength.
with a different stature.
with reduced vision.
who are blind.
with reduced hearing.
who are deaf.
with learning difficulties.
with cognitive limitations.
Then please go to the "Apply selection" button below. A user group filter will remain active even if the browser restarts until you manually deactivate it, or clear your browser's history.